Violin makers & Bow makers
Breitkopf & Härtel, founded in 1719, is the oldest music publishing company in the world. Already dealing with leading composers in the 18th century, Breitkopf continues this tradition today. "Breitkopf Pädagogik" stands for new music-pedagogical concepts. "Breitkopf Urtext" guarantees musicologically flawless editions for interpreters.
Contact
Walkmühlstr. 52
65195 Wiesbaden, Germany
Tel.: +49 (0)611 45008 0
info@breitkopf.de

Present-day PIRASTRO GmbH was founded in 1798 by Giorgio Pirazzi, a string maker from Italy, as Giorgio Pirazzi & Figli in Offenbach am Main. At the end of the 19th century the then managing director, Gustav Pirazzi, a grandson of the founder, decided to let his friend Theodor Strobel have a share in the business. The brand name PIRASTRO was put together from the first four letters of their surnames. Today the company is managed by Annette Müller-Zierach with her brother Henning Müller-Zierach. The sixth-generation family business has maintained its reputation for quality gut, steel and nylon core strings and colophonium.
"Come by our booth to learn more about our latest innovation!"
Contact
Senefelderstr. 80
63069 Offenbach, Germany
Tel.: +49 (0)69 8400900
info@pirastro.com
---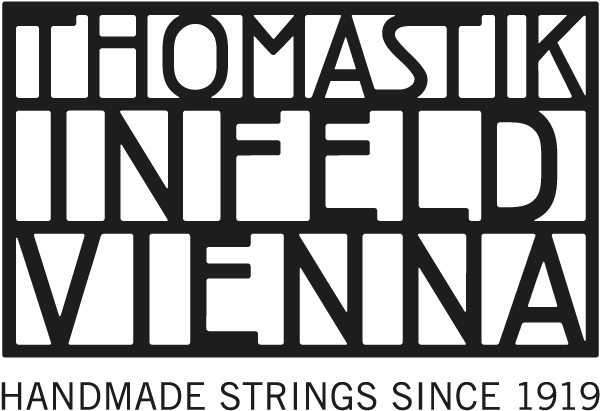 Handmade strings from Vienna since 1919
To make music strings of the highest quality – this has always been the incentive and obligation of Thomastik-Infeld. Still based in Vienna – where it all began over a century ago – the company develops, manufactures and distributes strings with a very wide spectrum of tone colors for bowed, plucked and world music instruments from Vienna all over the world.
Successful musicians around the world play Thomastik-Infeld strings – among them for example the well-known cellists Santiago Cañón Valencia and Steven Sharp Nelson.
Contact
Diehlgasse 27
1050 Vienna, Austria
Tel.: +43 (0)1 545 1262
info@thomastik-infeld.com
---
The Danish company Larsen Strings A/S is a highly specialized manufacturer and global exporter of cello, viola and violin strings. The company was founded in 1990 by musician and technology enthusiast Laurits Th. Larsen.
The ethos of the company is the passion for music. With their innovative ideas they continuously develop their product offer.
Contact
Elholm 6 A
6400 Sønderborg, Denmark
Tel.: +45 (0)7443 1760
larsenstrings@larsenstrings.com
New developments, Accessories, Workshops